Search
From 1986 through 2018, the Travel and Study Grant program awarded 1,109 grants totaling $3,875,8721 to emerging artists and Minnesota-based arts administrators to travel and do research.
This program received generous support from other sources, including the Dayton Hudson and Target Foundations (1986–2001), the General Mills Foundation (1988–2014), and the Art and Martha Kaemmer Fund of HRK Foundation (2002–2018).
From 1986 to 2005, the program supported individuals living in Minnesota, expanding to include New York City in 2006. 79% of grants went to Minnesota-based artists and arts administrators. From 1986 to 2002, awards were given in all disciplines each year. Starting in 2003, grants were made to disciplines in alternating years, with three disciplines supported each year.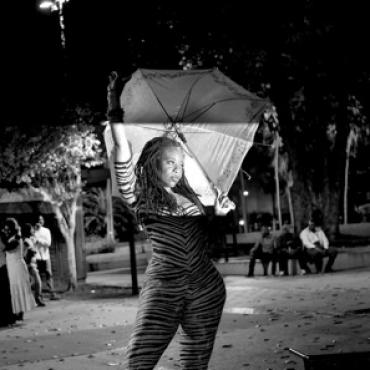 ---
Travel and Study Funding by Discipline
The program supported opportunities for grantees to investigate their cultural and artistic roots, study with mentors, and attend training programs to develop new skills among many other activities. Grantees traveled from the Arctic to Khartoum, from Tokyo to Sarli village in India, and to 49 of 50 United States (excepting Delaware).
The Travel and Study Program was discontinued as a separate initiative after the 2018 grants were awarded. The objectives of the program were embraced in the new Jerome Hill Artist Fellowships, which provides an expanded level of support.
View all grantees in:
<p><a href="/past-grantees?grant_type=20&amp;discipline=4&amp;from=1+January+1986&amp;to=&amp;region=All&amp;&amp;program=12&amp;keys=">Dance</a></p>
<p><a href="/past-grantees?grant_type=20&amp;discipline=23&amp;from=1+January+1986&amp;to=&amp;region=All&amp;&amp;program=12&amp;keys=">Film, Video and Digital Production</a></p>
<p><a href="/past-grantees?grant_type=20&amp;discipline=7&amp;from=1+January+1986&amp;to=&amp;region=All&amp;&amp;program=12&amp;keys=">Literature</a></p>
<p><a href="/past-grantees?grant_type=20&amp;discipline=26&amp;from=1+January+1986&amp;to=&amp;rregion=All&amp;&amp;program=12&amp;keys=">Multi-disciplinary</a></p>
<p><a href="/past-grantees?grant_type=20&amp;discipline=1&amp;from=1+January+1986&amp;to=&amp;region=All&amp;&amp;program=12&amp;keys=">Music</a></p>
<p><a href="/past-grantees?grant_type=20&amp;discipline=2&amp;from=1+January+1986&amp;to=&amp;region=All&amp;&amp;program=12&amp;keys=">Theater</a></p>
<p><a href="/past-grantees?grant_type=20&amp;discipline=3&amp;from=1+January+1986&amp;to=&amp;region=All&amp;&amp;program=12&amp;keys=">Visual Arts</a></p>
Chris Aiken
Sandy Augustin
Djola Branner
Bonnie Brooks
Barbara Bryan
Danny Buraczeski
Trevor Carlson
Ladda Chanthraphone
Karen Charles
Susana di Palma 
Leigh Dillard
Mary Easter
Simone Eccleston
Olga Garay
Lise Houlton
Ishmael Houston-Jones
Morris Johnson
Emily Johnson
Spider Kedelsky
John Killacky
Amy Lamphere
Debra Leigh
Kari Margolis
Bonnie Mathis
Cynthia Oliver
Gary Peterson
Benjamin Prior
Aparna Ramaswamy
Will Rawls
Gabri Christa Reid
Sally Rousse
Uri Sands
Patrick Scully
Rosy Simas
Douglas Sonntag
Daniel J. Stark
Georgia Stephens
Wil Swanson
Laurie Uprichard
Laurie Van Wieren
Julie Voigt
Roxane Wallace
Geol Weirs
David White
Arwen Wilder
June Wilson
June Wilson
San San Wong
Cathy Young
FILM, VIDEO, AND DIGITAL PRODUCTION
Dan Bergin
Hisham Bizri
Hafed Boussuda
Bruce Charlesworth
Portia Cobb
Georgiana Day
Helen De Michiel
Thalia Drori
Emily Goldberg
David Grant
Barbara Hammer
Mike Hazard
Trevor Hendricks
dejunius hughes
Cristina Ibarra
Bruce Jenkins
Lillian Jimenez
Dawn Renee Jones
Ruby Lerner
John Ligon
Lu Lippold
Sally Mendzela
Toney W. Merritt
John Mhiripiri
Jane Minton
Robb Mitchell
Sheryl Mousley
Eric Mueller
Alyce Myatt
Terri Myers
Eileen Newman
Lorraine Norrgard
Amy Ostergaard
Dean Otto
Edwin Pagán
Simon-Hoa Phan
Simon-Hoa Phan
Leighton Pierce
Jennifer Redfearn
Tony Riddle
Rajendra Roy
Neil Sieling
William Slichter
Mark Tang
Rich Tejada-Flores
Dorothy Thigpin
Bobbi Tsumagari
Morrie Warshawski
Laura Waterman Wittstock
Lucinda Winter
James Yee
Jake Yuzna
Elena Alexander
Quang Bao
Jim Berg
Ed Bok Lee
Barrie Jean Borrich
Marie Brown
Charles Coe
Tenaya Darlington
Alan Davis
Pallavi Dixit
Carol Dixon
Heid Erdrich
Elliot Figman
Christopher Fischbach
Pat Francisco
Diane Glancy
Ray Gonzalez
Judith Guest
Phebe Hanson
Erin Hart
Margaret Hasse
David Haynes
Robert Hedin
Carolyn Holbrook
Bob Holman
Patricia S. Jones
Chrissy Kolaya
Fiona McCrae
Brian Maloy
Kathleen Masterson
Katherine Minton
Kamilah Aisha Moon
Jim Moore
David Mura
Sheila Murphy
Jim Northrup
Gwendolyn Parker
Deidre Pope
J. Otis Powell!
Sherry Quan Lee
George Rabasa
William Reichard
Marcie Rendon
Richard Robbins
Bart Schneider
Patricia Spears Jones
Bart Sutter
Yuko Taniguchi
Anton Treuer
Kitty Tsui
Diane Wilson
Kao Kalia Yang
Jan Zita Grover
Davida (Kilgore) Adedjouma
Philip Bither
Michael Dennis Browne 
Amy Cordova
Kathleen Laughlin
Michael Lupu
Ruth Maleczech
Gustavo Matamoros
Rick Thompson
Philip Yenawine
J. Anthony Allen
Charles Amirkhanian
Marc Anderson
David Balakrishnan
William Banfield
Krystal Banfield
Lea Bertucci
Philip Blackburn
Julia Bogorad
Robert Browning
Michael Cameron
Evelina Chao
Brent Michael Davids
William Eddins
Douglas Ewart
Wallace Hill
Edie Hill
Taylor Ho Bynum
Prudence Johnson
Michelle Kinney
Homer Lambrecht
Janis Lane-Ewart
Libby Larsen
Minja Lausevic
Ron McCurdy
Kathy McTavish
Renaldo Moya
Mankwe Ndosi
Kate Nordstrum
Phil Nussbaum
Chris Osgood
Zeena Parkins
Nirmala Rajasekar
Judith Sainte Croix
Rio Sakairi
Sarah Solotaroff
Bernadette Speach
Jim Staley
Dameun Strange
Romuald Tecco
Steve Tibbetts
Jeffrey Trevino
Donald Washington
C. Spencer Yeh
Bora Yoon
Pamela Z
Jeffrey Bartlett
John Lee Beatty
Sonya Berlovitz
Jessica Blank
Ed Bok Lee
Carlyle Brown
Sha Cage
Ben Cameron
Laurie Carlos
Ellie Covan
Hal Cropp
Sean Dowse
Michael Elyanow
W. David Hancock
Jeff Hatcher
Susan Hilferty
Kim Hines
Dean Holzman
Tom Isbell
Morgan Jenness
Melanie Joseph
Gülgün Kayim
Michal Kobialka
Cynthia Mayeda
Des McAnuff
Robbie McCauley
Marion McClinton
Chiori Miyagawa
Isabell Monk
Sandy Moore
David Moore
Louis D. Moreno
Miriam Must
Nicky Paraiso
Luu Pham
Jason Phelps
Faye M. Price
Noël Raymond
Jack Reuler
Bob Rosen
Tim Sanford
Bina Sharif
Rick Shiomi
Paul Slee
Roberto Uno
Ta-coumba Aiken
Kinji Akagawa
Doug Argue
Roberto Bedoya
Holly Block
Vernal Bogren Swift
Laurel Bradley
Richard Bresnahan
Andrea Selese Carlson
Santiago Cucullu
Rebekah Crisanta de Ybarra
Jim Denomie
Martin DeWitt
Rina Epelstein
Tom Finkelpearl
David Goldes
Lauren Haynes
Eric Heist
James Henkel
Ricardo Hernandez
Sofia Hernandez Chong Cuy
John Hock
Alexa Horochowski
Wing Young Huie
Barbara Hunt
Olukemi Ilesanmi
Hitomi Iwasaki
Suzanne Kosmalski
David Paul Lange, OSB
Donald McNeil
Stephen Mohring
Jose Narezo
Judy Onofrio
Yasmil Raymond 
Laurel Reuter
Laurel Reuter
Garth Rockcastle
Linda Rossi
Paul Shambroom
B. J. Shigaki
Roger Shimomura
John Steffl
Eun-Kyung Suh
Herb Tam
James Tanner
Peter Taub
Xavier Tavera
Eugenia Tsai
Megan Vossler
Adam Weinberg
Dyani White Hawk
Steven Woodward
Julie Yanson
Laura Youngbird